Jay Beagle's development has been one of the nicest stories of the season. By pure determination, the undrafted Beagle has turned himself, into a trusted NHL 4th liner. Just a month younger than Alex Ovechkin, Beagle has willed himself into a valuable NHL player in what is Ovechkin's seventh full NHL season.
It's a nice story. Last night, Dale Hunter turned it into a farce. At no point during last night's loss against Winnipeg did Ovechkin lead Beagle in even strength playing time.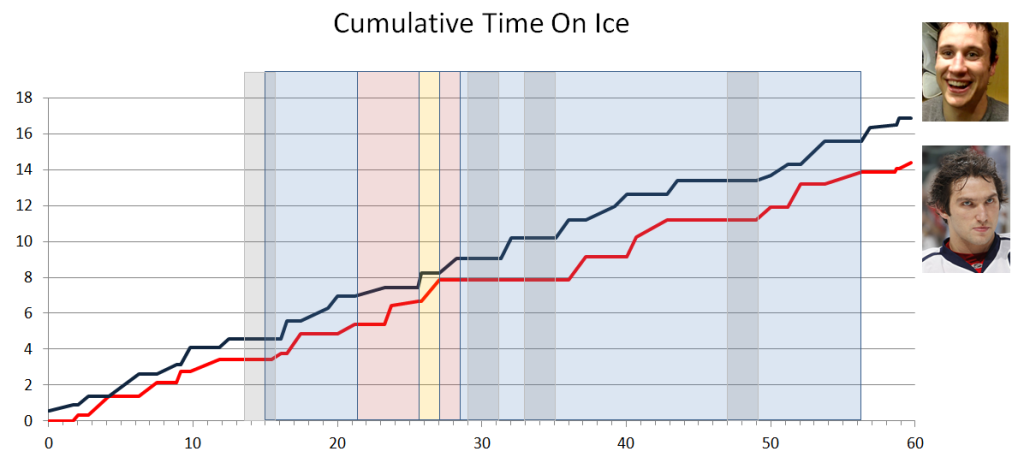 Times when the Caps had a 1-goal lead are blue; 2-goal leads are red; the brief 3-goal lead is yellow, and power plays/penalty kills are in grey.
Beagle won the opening faceoff and skated a 33 second shift with Hendricks and Brouwer. Ovechkin never caught up -- the closest they came was at the 4:08 mark of the 1st period, when Ovechkin ended a shift with 1:22 of TOI to Beagle's 1:23. Beagle pulled away from there, ending regulation with 2:30 more than Ovechkin (16:52 to 14:22).
Let me stress again -- this is even strength, 5v5 time on ice I'm talking about. Beagle didn't exceed Ovechkin because of penalty killing or anything like that. Given a choice between which fresh player to send onto the ice, Hunter repeatedly selected Beagle over Ovechkin. He chose the marginal NHL grinder over the league's fourth leading scorer -- a guy who scored more goals by age 25 than all but seven players in history.
Alex Ovechkin doesn't need protection. Alex Ovechkin is what other players need protection from.
I don't know why Hunter made the decisions he made last night, but I can guess. The Caps had a lead, and we've all seen Hunter order the defensive shell to end all defensive shells before, and looking at the chart, that certainly entered into it.
But my diagnosis is deeper than that. Jay Beagle is an incredibly coachable player. He'll do exactly what is asked of him. Ovechkin is a tougher nut for a coach to crack. Even tougher is Alex Semin, who got 13:39 at evens last night, and no overtime TOI. (Even Beagle took a shift in overtime.)
No, I think that what's happening here is an extreme case of using TOI to reward the little things that players do well. For everyone who wanted to see players who make mistakes lose TOI, this is what that looks like. It's satisfying -- right up until your team blows a 3-goal lead because the coach won't put his best, but most complicated, players on the ice.
No opposing team looks at the Caps' roster and says to themselves, "Oh Shit, how am I going to stop Jay Beagle." They worry about Ovechkin and Semin. But for most of last night's game, Winnipeg didn't have to worry about the Caps' best goal scorers because you can't score from the bench. The Caps gave them carte blanche to take shot after shot on Michal Neuvirth with no concern about having to protect their own end, because when a puck is on the blade of Jay Beagle's stick, pretty soon it's flipped conveniently out into the neutral zone where you can just collect it, reenter the Caps' zone, and try again.
Playing your grinders significantly more than your stars because they're more coachable? Not exactly a recipe for success.