Recently some respected people (sk84fun_dc, fat_daddyo, etc.) have been complaining (legitimately, mind you) about the amount of images in the comments. Especially on large threads, this can substantially weigh down the page load and make it an unpleasant user experience for those of us on slower computers (corporate/government-mandated or otherwise). As someone who would hate to lose their valuable input for a stupid reason, I got to work.
To that end, I wrote a Greasemonkey script to help alleviate this problem. It monitors AJAX refreshes (new comments) and hides any image in the comment body and replaces it with a "Click here to show image" link. Clicking that link will, shockingly, show the image.
There are some downsides:
It still has to load all the images the first time, but I'm working on that. If you load the clips early in the day, it will be the fastest, as it will intercept any new images as they're posted.
It only works on Japers' Rink right now, but I'll expand it to the full list of SB Nation sites when I get a chance.
Just thought I'd post it now so anyone who is interested can use it while I continue development. If you have requests, feel free to list them below or send me an email.
Before

After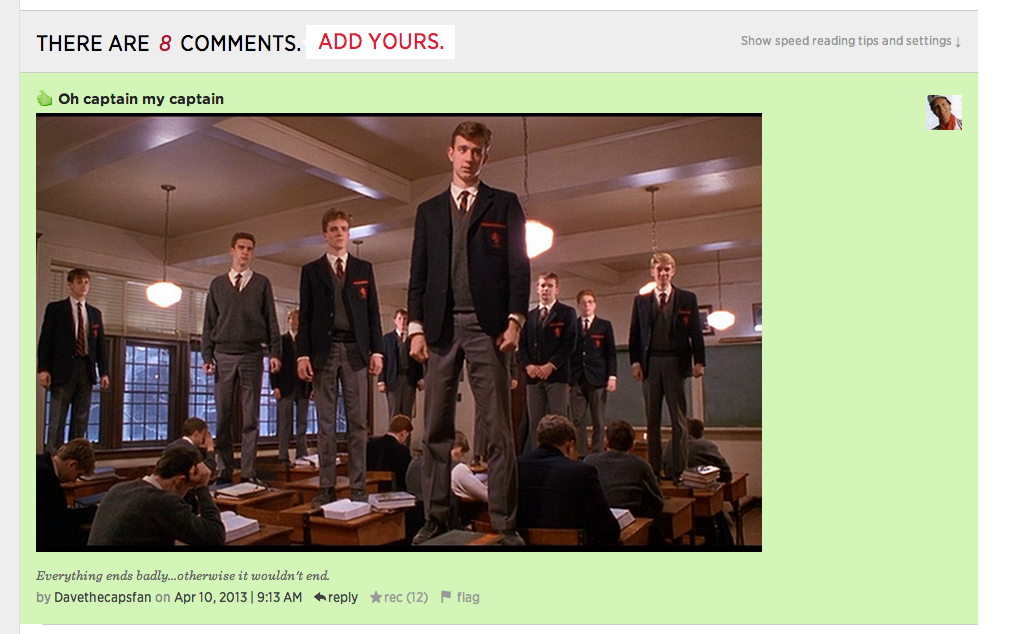 TL;DR
This script speeds up pages:
Obligatory warning about installing user scripts, but you can trust that I am a long-time member of the rink with a vested interest in maintaining my good standing, plus the code is available for anyone to verify
More detailed instructions about installing user scripts
Greasemonkey — A Firefox plugin for installing user scripts
TamperMonkey — A Chrome Extension for loading Greasemonkey Scripts