In the Caps Clips today, D'ohboy and I got into a debate about the first goal TBL scored in game 1, specifically the degree of culpability assignable to Mike Green.  I tended to be more forgiving of Mike Green than D'ohboy was.  After the break, we'll take a look at how the play went down and each of us will make our case.  As with the prior FanPost, this is a collaborative effort.
Here's the video of the entire sequence, refer back to this video regularly for context of the screen shots.
And here we go.  The first few screenshots will be set up, when the breakdown happens the disagreement begins:
The play starts with a simple dump in.  The Caps have men back and look to be in good position.  However, by the time Neuvirth retrieves the puck (something he rarely did in the NYR series, maybe now we know why), problems are becoming apparent.  Although we have three men back, they are all on the same side of the ice and Marcus Johansson is in the high slot.  With his speed, if he's only 5-10 feet down further into the slot, or on the opposite side of the slot, he presents a viable option for Neuvirth to pass to.  As the alignment is, however, that's not the case. Ideally Neuvirth would pass the puck to the red "X" mark.  But given that it would require a backhand pass through a forechecker it's not a play you want a goalie making, not even if it were Braden Holtby.  Getting the puck to the X would have gotten Green the puck with a world of time (by his standards/needs) and support from Johansson.  Since that would be a high risk play, I'd prefer to see Neuvirth play the puck into the red oval. Softly moving the puck there allows the Caps go to retrieve it and gives Neuvirth time to get back and set in the crease before any potential shot against him.  A veteran goalie might even softly move the puck to the corner and then run some "unintentional" interference on the TBL forechecker.  That would give Erskine and Johansson enough time to start developing a breakout, or allow Erskine to reverse the puck behind the net to Green (though that would require going through a forechecker again).  I don't know if Neuvirth is comfortable running that kind of interference, but it's a preferable option to what he actually did.  Since he had no clear outlet, and enough of a forecheck that he couldn't do a full 180 and take his sweet time, Neuvirth whips the puck up the boards.  The only player near where the puck is going is Steve Downie.  Chimera is up the boards, out of screen, and not a real threat to win that puck.  Downie wins the puck without a contest, and with plenty of time, and thus begins an extended defensive shift for the Caps.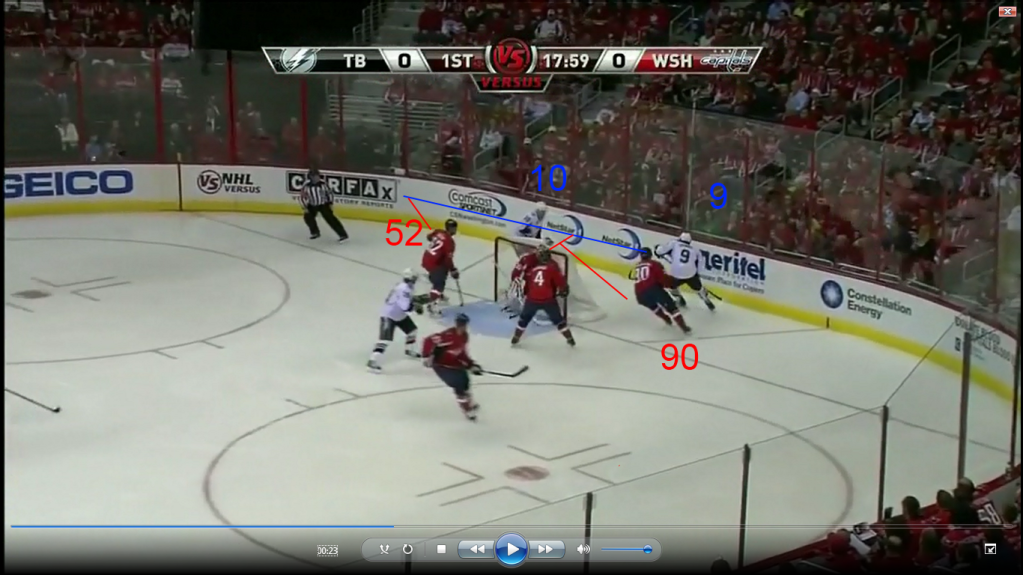 The Caps hold up for a little while, but they can't get puck possession.  Just after the 18 minute mark is when things start looking good for the Caps... and then they go south.  Green and Mackan do a solid job of switching coverage behind the net all shift, but the best example comes right before the breakdown.  In this screenshot we see Mackan trailing Downie (puck carrier) with Bergenheim by the post to Neuvirth's right. Green is just next to the post marking Bergenheim.  As Downie goes behind the net Mackan and Green will switch.  Mackan takes position guarding Bergenheim and Green skates out to take Downie to the corner.  
F&B:  Here we see how well the switch worked out.  Green has taken Downie to the boards, Mackan has boxed out Bergenheim to support Green in the corner, and Erskine is in front of the net denying a passing lane between the puck and Moore in case TBL wins the battle in the corner.  Fehr and Chimera have moved down to support their teammates, but are still in position to deny the passing lane or cover the TBL point men.
D'ohboy:  This is the first place where F&B and I diverge. If you watch the video above that relates to this image, Mackan takes the easy way out twice and skates a circle rather than doing the right thing, which is starts and stops. Watch at 9 seconds in, then again at 16 seconds. At 16 seconds, his lazy play allows Kubina to get the puck to Bergenheim who goes low-to-high and sets up Mike Lundin for a nice point shot with traffic. Mackan needs to ignore the lactic acid build-up in his quads and do his starts and stops there. Pee-Wee hockey fundamentals like this are killing the Caps all over the ice.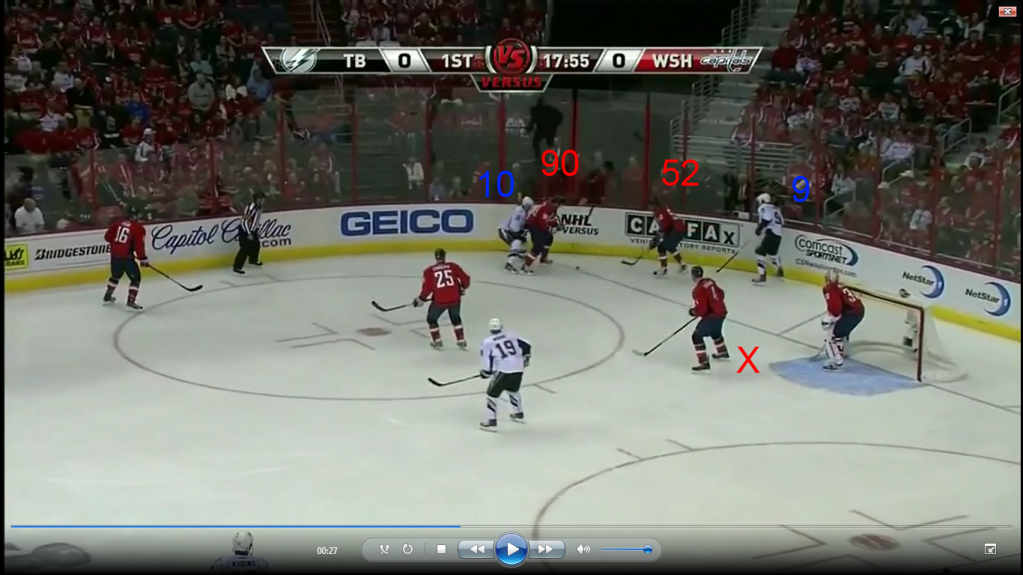 Now we see the first time the Caps look to have a chance to clear; the highpoint of the entire shift.  Green and Mackan have boxed their men out and seem to have won the puck.  Neither player has touched the puck cleanly yet, but they are the two closest players to it.  Pay attention to where Erskine is, he's right on top of the crease playing conservative defense.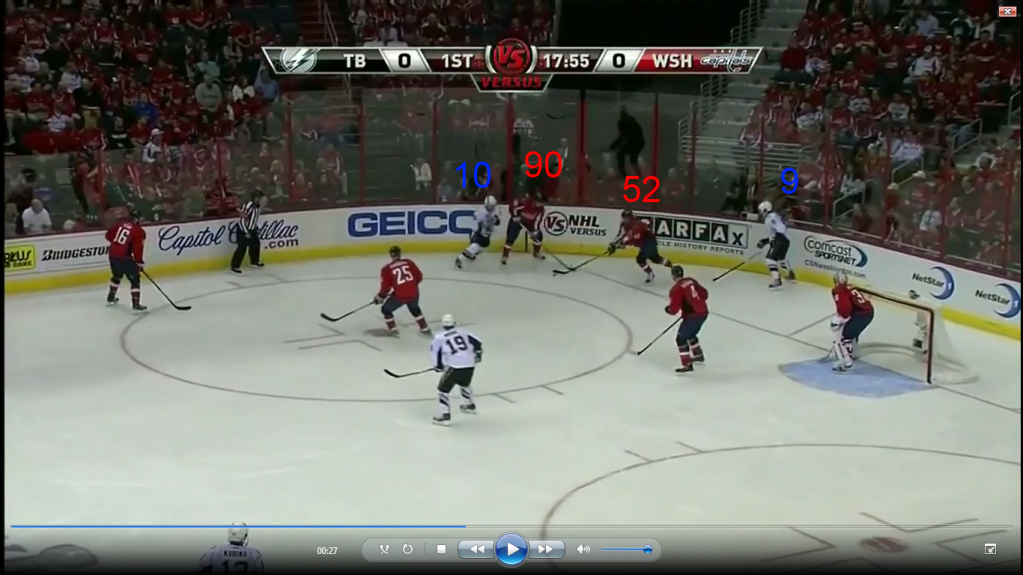 F&B:  Less than a second after the prior screenshot, Mike Green finally gets a puck on the stick.  This is his most culpable moment, but I don't think it's much.  He literally only gets one touch of the puck.  A depth D, a guy not known for his puck skills, maybe you ask to immediately dump that puck to center ice or off the glass.  But Mike Green isn't that guy.  He's the one man breakout.  He has a ton of room to the inside and if Bergenheim doesn't make an incredible poke check that is an easy breakout.  Of course, that didn't happen, and the puck stayed in our zone. What I'm more concerned with in this shot is why Erskine is floating out away from the crease.  Watch the video again, he takes two looks at Moore in the slot, but he doesn't commit.  If he was concerned with Moore, he should get himself to somewhere he could actually cover him.  I'd prefer he just stay on top of the crease until the puck is safely moving up ice.  Instead, he just floats away from the crease, steadily to no man's land.
D'ohboy:  This is where I begin to really disagree with F&B. Yes, Green gets only one touch, but this is playoff hockey - sometimes one touch is all you get. While I agree that Green isn't the type of player to make the "safe" play, I think this is a situation where a smarter, more mature player makes a less risky play with his one touch. In this case, Green had two other options available. First, he could eat the puck, play it toward the corner and hope to win the physical battle along the boards. Maybe you lose the puck in this scenario, but if you do, it's along the boards and not much bad can happen. Second, he could try to bank the puck along the boards to Eric Fehr, who could hit a curling Jason Chimera and start the breakout. Instead, he makes the riskiest play of all, the one that screams "screw it, I'm talented, I've got this." Look how extended Green is in the shot below; I know the guy likes to play on the edge, but it's like he's begging for the puck to get taken off his stick. Sean Bergenheim politely obliges. What makes this worse is that his teammates start breaking out along with him in anticipation. This leaves them wrong-footed when Bergenheim steals the puck.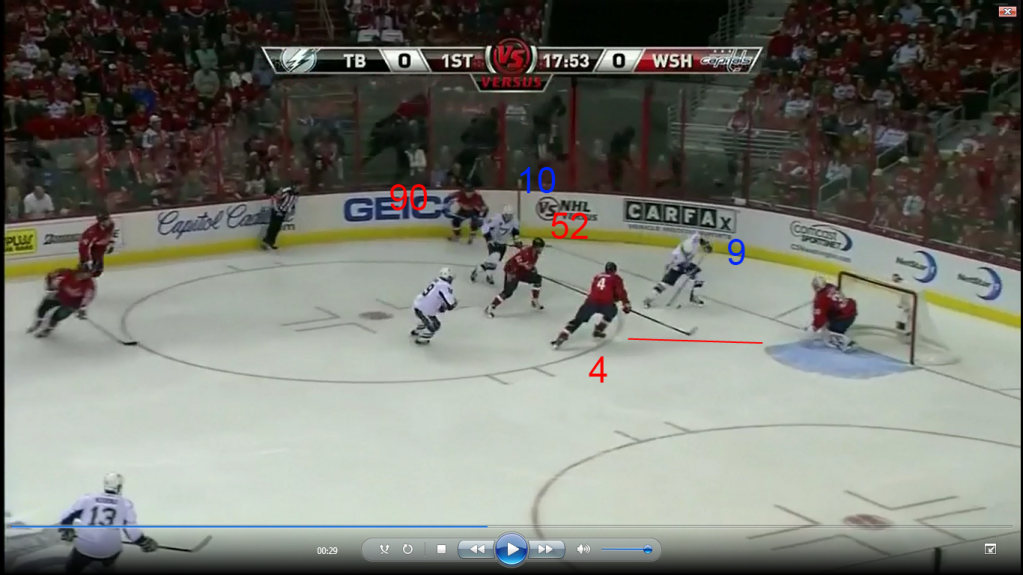 F&B:  Now the puck has been turned over and we see Downie crashing towards the crease.  Look at how far out Erskine has drifted.  He's got both feet firmly in the face off circle, when literally a few seconds before he was planted on the crease.  Oh to have our crease clearing D actually on the crease at this moment...  Erskine is far enough away from the crease to give Downie a clear lane that Erskine isn't fast enough to close, but not so far away as to do anything to cover Moore if the puck had gone to him.  He's completely in no man's land.  You can also see Chimera had been heading up ice anticipating the breakout, but I can't fault him for that.  He thought he was about to have a rush up ice, and that impression was justified.  Even if he had been a bit more conservative, I don't think it's likely that he would have made a difference on the play anyway, but with his speed you never know.  You might be able to second guess how he played it, but I can't say he should have done it differently.
D'ohboy:  Erskine made a poor choice to leave the front of the net that early, but in his defense, he thought Green was going to clear the puck and not hand it over to Bergenheim. It would have been great if he could have reached Downie before he could get a shot off, but come on, this is Erskine after all - speed and quickness aren't his game. I agree with F&B about Chimera: perhaps if he drops down he could have helped out, but really, that's not his responsibility in this play. The Caps had numbers down low, Green just made a badly timed turnover so everyone is slightly out of position. 
F&B:  In the final screenshot we find the evidence exculpating Green, as well as evidence implicating another culprit.  Erskine has taken Downie down in the crease, but Green has skated back into position and boxed out Bergenheim.  Green is in great position, the only way he could fail to cover Bergenheim here would be for the ref to miss an obvious penalty.  (Or for him to not have his stick on the ice...)  Unfortunately, Mike Green plays in the NHL, and the ref misses an obvious penalty.  In this picture you can see the exact moment Bergenheim makes contact with Green, crosschecking him into the goal.  Aside from the poor officiating, the real culprit here is standing in the red circle.  It pains me, I love his game so much, but Mackan is floating.  He thinks the play is over and he coasts to the net.  In fact, he takes two strides, and neither of them full strides, after the point when Mike Green turns over the puck.  Oof.  Gotta do better than that, Mackan, even as smooth a skater as you are.  He gets to the net just after the puck gets swatted into the net by Bergenheim.  You have to imagine some hustle gets him there to at least make a play on the puck, and most likely completely tie up or lay out Bergenheim.  Maybe if he had spent some time in Hershey earlier in the season he would have learned that lesson...
D'ohboy:  This final screenshot does anything but exculpate Green, in fact it indicts him of a second mental error to go along with his turnover. Yes, Erskine doesn't handle Downie effectively in front of the net, but between him and Neuvirth, they handle the original chance. Yes, Mackan is floating a bit and he ought to have kept his feet moving (see my earlier comment about stops and starts). Despite all this, it was Green who handed the puck to Bergenheim. It was his turnover that caught all of his teammates breaking out of the zone. And it was Green's man, Bergenheim who scored the goal. How did this happen? It happened because Green, as usual, was watching the puck rather than his man. He loses the puck, then turns back to the net and focuses on the puck. Yes, Bergenheim's shove from behind was an obvious missed interference call. Again, this is the playoffs - the refs let a lot of pushing and shoving go around the net. Flat on his face inside the net, Green is unable to tie up Bergenheim, who eventually pots the goal. 

So what could Green have done differently once he turned the puck over? First, don't focus on the puck. The puck cannot put itself into the goal - a skater has to put it in. By this, I mean that Green needs to pick up a man. He can look at the puck all he wants, but unless he's one of the Men Who Stare at Goats, it's not going to help all that much. Second, and pursuant to not staring at the puck, turn around and face up to Bergenheim. According to Tampa's official roster, Bergenheim is 5'11" and 200 lbs, while Green is officially 6'1" and 204 lbs. Say what you will about "official" heights and weights (they're all lies), but there's no reason Green should get tossed to the ice like some drunken jerk's Bud Light bottle from the 400 level. Ask yourself, "What Would Chris Pronger Do?" Pronger would face away from his own net, take a Larry Craig-esque wide stance and bury his stick and gloves in Bergenheim's chest. Tampa might score, but there would be no way that Pronger's man would do the scoring. Pronger would get retaliation in first; Green just got abused. (If you loathe Pronger, use Lidstrom instead. Lidstrom would have kept his stick on Bergenheim's stick and kept his position so that Bergenheim couldn't get to the rebound. He would not have ended up face-first in the back of the net.)
F&B:  For another perspective, here's a video of the goal from behind the net.  Look at how close Mackan and Fehr are to making a play.  Right before the playoffs started I read someone saying that they love the playoffs because a difference of five feet can cost you a goal, can cost you the game.  I think this particular play is a great example of that.  If Erskine is five feet closer to the crease... If Mike Green was five feet (or fewer) to the inside of the ice... If Mackan or Fehr was five feet closer to the net...
D'ohboy:  I'm saying it doesn't really matter what Fehr did or didn't do, and Mackan, while not without guilt, isn't the primary culprit. Green turned the puck over. Green then got caught staring at the puck rather than properly boxing out around the crease and picking up his man. Green ended up wedged into the net like a body stuffed into the trunk of a '78 Cadillac Eldorado.  
So what do you guys say?  We're all fans, something bad happened to our team, someone must be to blame.  Where are you laying it?