There's been a lot of talk about realignment ever since the NHL threw out decades of tradition and gave us the boring geographically-named divisions and conferences we live with today.  While almost every hockey fan agrees that the current situation is not ideal, most of the realignment plans that you see out there are heavily skewed in favor of one team because of whatever bias the writer has.  This is my attempt at a fair realignment, taking each team's particular situation and goals into account.
I believe the biggest problem with the current setup (apart from losing those historic names) is that many natural rivalries have been broken up -- some before they were ever allowed to get started.  My philosophy is that cities that have something in common should be together in the same division, whenever possible.  As a Caps fan, I am obviously particularly sensitive to this.  Good rivalries should be the #1 consideration in any divisional structure.
But rivalries are not the only consideration.  Travel is not just very expensive -- it's a competitive concern.  Western Conference teams spend many more days on the road and many more hours in the air than Eastern Conference teams, and these extra burdens can have an effect on the standings.  So here's my attempt at a realignment that balances the benefits and burdens on all of the teams:
Campbell Conference

Prince of Wales Conference

Smythe

Norris

Patrick

Adams

Tampa Bay Lighting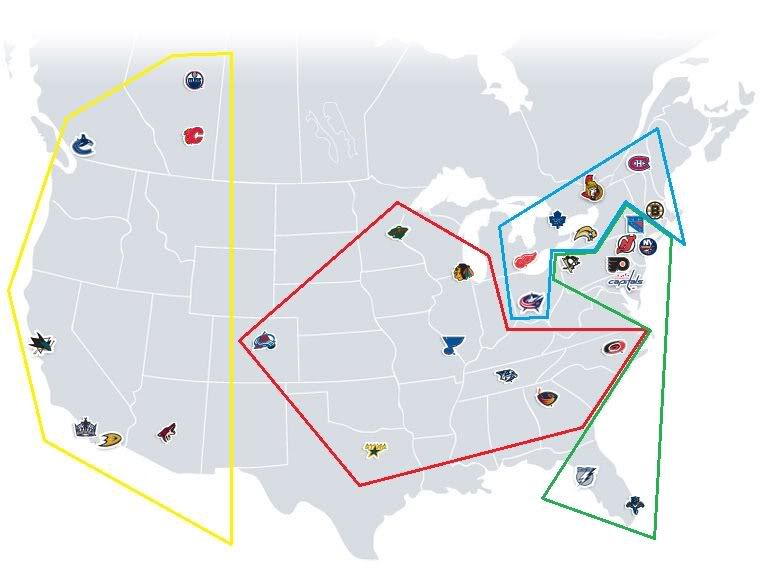 Credit goes to What Juneau About That for the awesome map.
Here's my thinking, division by division:
There simply has to be a far west division.  It's the only way to make travel make sense.  So there's not much to be said about the new Smythe.  The Battle of Alberta is perhaps the best rivalry in hockey, and it's preserved, but it's hard to come up with a realignment that doesn't preserve that rivalry. Likewise the California rivalries.
This new Adams was built to reestablish natural rivalries.  We've all lived with Detroit in the West so long, it probably seems normal.  But if you drive due south from Detroit across the Ambassador Bridge, you end up in Windsor, Ontario.  Historically, Detroit as a hockey town was more closely aligned with Toronto than Chicago.  And Toronto-Buffalo-Boston-Montreal-Ottawa are such a good set of natural rivalries, they can't be broken apart.
The new Norris is born from my belief that Atlanta-Nashville-Carolina-Dallas is a natural rivalry that needs to happen.  Today, those teams aren't just in different divisions -- they're in different conferences.  I think St. Louis has a lot in common with those cities as well, and Chicago is a great rival for St. Louis.  And Minnesota naturally belongs there as well.
The Patrick division should of course look familiar, except that the Florida teams have been added.  I don't have to sell this audience on the importance of regrouping the mid-Atlantic region into one division.  The #1 "a-ha!" moment I had when putting this together was when it occurred to me that in many ways the Florida cities share more in common culturally with the mid-Atlantic than with cities like Nashville, Dallas, Atlanta and Raleigh.  That made everything come together, because (1) I wanted Atlanta-Nashville-Carolina-Dallas together; (2) Dallas had to be in the Campbell Conference for travel logistics reasons, and (3) you just can't put Vancouver and Miami in the same conference.  The solution was to split Florida and Tampa from the rest of the southern USA teams. 
There are a few tweener teams.  I put Colorado in the Norris because I think the next expansion is more likely to come on the west coast (Seattle, Vegas, or Portland) or in western Canada (Winnipeg) than in the middle of either country.  But if a city in the middle like Kansas City joins the league, Colorado would be moved to the Smythe.
Columbus is another tweener team. I originally had them in the Patrick division because in other sports Ohio and Pennsylvania have such great rivalries.  But there's no space in the Patrick for them, and Ohio-Michigan is a great rivalry in college football, so this seemed to make sense.  I also considered having the New York teams in the Adams, so that Columbus could be in the Patrick, but I wanted to leave room in the Adams for expansion because it seems likely that the greater Toronto/Hamilton area is going to gain another hockey team one of these days.
My focus has been on the rivalries, but I think travel is improved as well.  The Campbell Conference has two teams in the Eastern time zone (Atlanta and Carolina) -- the same number that the Western Conference has today (Detroit and Columbus).  That's a necessity because there are 18 teams in the Eastern time zone, and 16 slots in a conference.  Vancouver may not be thrilled to travel more often to Atlanta and Carolina, but for rivalries reasons I think the change is worth it.  And I think Atlanta and Carolina would be willing to travel more often to California and to Western Canada if it meant they could be in a division with their natural rivals Nashville and Dallas.  The big winners in terms of travel are, of course, Detroit and Columbus, who will suddenly start playing a lot more games against cities within 500 miles.  When you think about it, it's crazy that Columbus currently plays more games against Anaheim than Pittsburgh.
Most importantly, I don't think any team gets screwed.  Chicago will be upset that its rivalry with Detroit is broken, but I think Detroit will welcome the change.  Likewise, the Western Canada teams will gripe over travel to Atlanta and Raleigh instead of Detroit and Columbus, but I think Atlanta and Carolina will welcome joining a division with Nashville and Dallas even though it means more travel. 
One more advantage is the shift to four divisions instead of six.  Every year it seems unfair that the third playoff seed in each conference goes to a team that has a worse record than the fourth seed, just because they won a weak division.  Having only two division winners per conference makes winning those divisions seem a lot more meaningful.
So what do you think?