The topic of the day seems to be Jeff Schultz's strong play.  The Coach had kind words for Schultz, but is Boudreau putting his money where his mouth is and really relying on Schultz?  Well, the time on ice data paints a pretty clear picture:  Here's a comparison of of the TOI for Schultz and Tom Poti this season.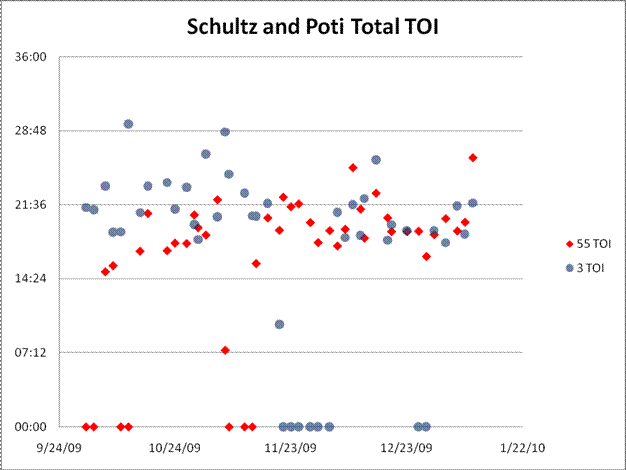 And here's their respective special teams time:
The scatter plots can be tough to read, but there's no mistaking the trends here in this month-by-month chart:
The bottom line is that Boudreau is increasingly relying on Schultz, both for more minutes per game and for more tough PK minutes per game.  I predict that these trends will flatten out, since the pairing of Poti and Schultz has been very effective so far.  But I think the days of Schultz seeing significantly less time on the penalty kill or on the ice in general are behind us. 
Jeff Schultz has arrived as a trusted stopper.